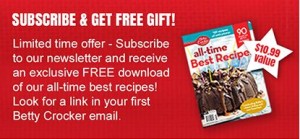 Imagine being an insider at the Betty Crocker Kitchen!! Well now you can be! It's so simple – all you have to do is sign for the FREE Betty Crocker Newsletter and you are inside the kitchen!
Exclusive insiders coupons and savings up to $250 a year PLUS you also will have access to some of the best Betty Crocker Recipes! How can you refuse?!
Becoming a member for FREE will allow you to get ideas that WOW your friends and family! Want to plan a Princess party and don't know where to start? Well being a member with Betty Crocker will help you in their all in one guide to help you throw the best Princess party ever! Party Décor, games, recipes, you name it, Betty Crocker will help you!
When you sign up (for free remember!) there are also videos you can watch such as a quick guide on healthy smoothies or a video on making a gluten free marble cake! I love that you can watch a video and actually see how it's done! The video section is awesome on this site and I love seeing how to do it instead of just reading how.
There is even a section where you can actually "ASK BETTY" questions which is the best because so many times I have needed help with something in the kitchen and now you can go here and look through the Q&A's or just ask the question yourself!!
Ideas galore on this site as well for any occasion and season! You will get lost in this site and will be glad you signed up!! I have found some great recipes and snack ideas on this site and with summer coming you, you are going want to check out the fun summer ideas they have! I have gotten some adorable cake pop ideas and I can't wait to try them out!
~Tammy~