Layered Strawberry Shortcake!
Summer time means fresh berries! Oh how I love berries! Especially strawberries!
Recently I was in need of a great dessert for a small get-together. As I walked the produce isle I seen the fresh strawberries and instantly knew what I was going to make! Layered Strawberry Shortcake is quick, easy and inexpensive to make!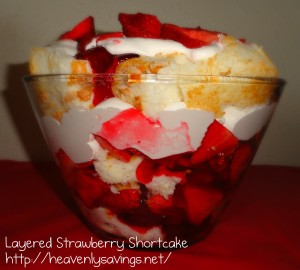 Ingredients:
2 pre-made shortcakes torn into bite sized pieces 2 lbs strawberries sliced 16 oz whip topping 32 oz strawberry pie filling
Directions: 
1. Layer bottom of bowl with torn pieces of shortcake.
2.  Cover layer of shortcake with 1/4 of the strawberry pie filling.
3. Add whipped topping to layer of Strawberry pie filling.
4. Add 1/4 sliced strawberries to layer of whip topping.
5. Start the layers over again until the bowl is filled!!

I also have strawberry jam pictured in this photo. You can alternate the jam with the pie filling if you like. I did not use the strawberry jam but if your bowl is bigger and you don't think you have enough strawberry pie filling then this will do the trick as well! Just do a thinner layer!
The Layered Strawberry Shortcake was a huge success at the party. I was even asked if the guests could take home the left overs! They loved it that much! Wahoo! I love when I make something that is a huge hit! Enjoy!
Don't forget to click the 'Magic' button below for Nutritional Information and Weight Watcher's points for this recipe!