I am great at improvising. It is easy for me to go to the cupboard and pull out this and that and make something out of it. Recently I was in a soup mood…..so I headed to the cupboard and fridge and came up with this concoction! Shrimp Thai Soup is what I shall call it 😉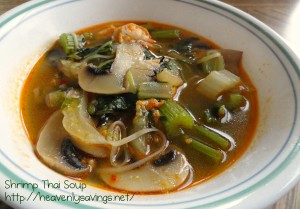 Shrimp Thai Soup
I am a huge fan of Thai. Although, I never cooked Thai style food until this year. Now I can't seem to get enough. I am a lover of vegetables and with this Shrimp Thai Soup I was able to add some spice and flair to my vegetables!
Ingredients:
3 qt water 3 chicken bullion cubes 1/4 cup celery  1/4 cup fresh cilantro 3 bok choy stems Green Onion Bundle diced 6 fresh basil leaves 8 oz package mushrooms 1 lb shrimp 2 packages of Thai noodle soup (any flavor)  
Directions:
1.  Fill a large stock pot with water and start to cook on medium-high heat. Heat to boil.
2. In separate pan cook noodles following package directions….just don't add the seasoning.
2. Once stock pot is heated to boil add shrimp and mushrooms. Turn down heat to medium and simmer 3 minutes. Add basil, green onion, bok choy, celery, and bullion. Cover and simmer 5-7 minutes or until vegetables are soft and shrimp is light pink. Add cooked noodles and stir into soup. You can also add the seasoning packets from the Thai Noodle soup at this time…if you want. Or you can leave them out. It's your choice.
3. Serve and enjoy!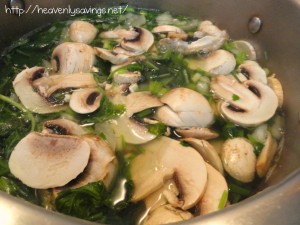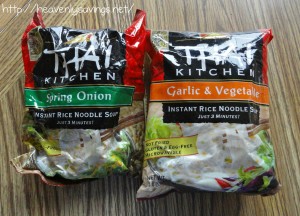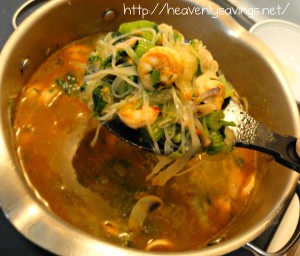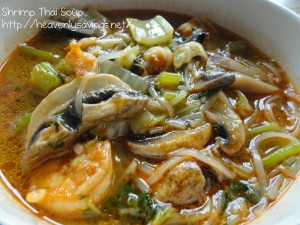 This Thai style soup turned out amazing. It hit the spot and was so light, warm and refreshing. I love the blend of vegetables and the low calories! Yum! Enjoy!
Don't forget to click the 'Magic' button below for Nutritional Information and Weight Watcher's points for this recipe!