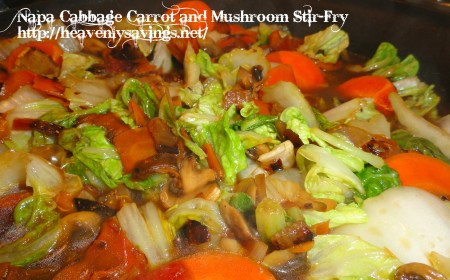 Napa Cabbage, Carrot and Mushroom Stir-Fry
I love stir-fry. It is one of the most cooked meals in my home. Not only is it healthy with all those yummy vegetables but the combinations and flavors are endless!
Recently I decided to make a stir-fry unlike any I have ever made before. This time I cooked with vegetables only which is something I do not do often in stir-fry. I used Napa Cabbage, Carrots and Mushrooms! It turned out amazing and the whole family could not get enough.
Ingredients:
1 small yellow onion diced 3 thin slices fresh ginger 2tbs butter 1 lb bag carrots diced 1 package mushrooms sliced 3tbs soy sauce 1/2 c water 2 beef bullion cubes 3 tbs rice wine vinegar 1 small head Napa cabbage sliced  
Directions:
1. Add onion and ginger to fry pan with 2 tbs butter. Cook on medium heat stirring often until onions are transparent.
2. Add carrots, cabbage, mushrooms, soy sauce, vinegar, water and bullion cubes to fry pan. Heat to boil. Turn down heat, cover and simmer stirring often about 10-15 minutes or until vegetables are tender.
This meal was very easy and you can always mix or add any veggies or meats that you think would make a great addition to this meal. I can see it cooked with sprouts, chicken, shrimp, tofu, bok choy etc…. the possibilities are endless! Enjoy!
Don't forget to click the 'Magic' button below for Nutritional Information and Weight Watcher's points for this recipe!