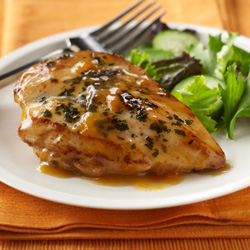 Quick and Easy Apricot Chicken
Stuck in a rut when it comes to dinner ideas? When you keep a busy schedule and have a million things to pack into each day, it can be easy to get in the habit of repeating the same go-to recipes over and over again.
If you're feeling uninspired about meal time, one of the best ways to discover new ingredients and flavors is to take a look at what's in season. Now that it's officially spring, everything from asparagus and artichokes to maple syrup and strawberries is coming back into season, so take advantage of fresh new flavors and try cooking with things you haven't eating in a while!
This apricot chicken is perfect for a light, springtime dinner when you want something quick but satisfying, and apricots are one of the fruits that come into season in spring. Most home cooks always have a supply of chicken breasts or thighs in their freezers, making easy chicken recipes one of the very best resources for busy weeknight meals. This recipe uses fresh spring flavors to add something different to your average chicken breast dinner. Serve over white rice alongside a fresh green salad for a fruity, warm weather dinner option. Enjoy!
Apricot Chicken
Serves: 4
Calories: 305
2 tablespoons Pure Wesson® Canola Oil
4 boneless skinless chicken breasts (4 breasts = 1 lb)
1 teaspoon dried Italian seasoning
1-1/3 cups reduced-sodium chicken broth
1/2 cup apricot preserves
1 tablespoon cornstarch
Directions
Heat oil in a large skillet over medium-high heat. Sprinkle chicken with Italian seasoning. Add to skillet and cook 12-15 min or until no longer pink in the centers (165° F), turning once.
Stir together all remaining ingredients in a small bowl until well blended. Gradually add to chicken in skillet. Cook for 3-4 more minutes or until sauce is thickened, stirring constantly. Serve with rice.
Tip: Make your own dried Italian seasoning by using ½ teaspoon dried oregano, ¼ teaspoon dried basil, ¼ teaspoon dried thyme.
Author Bio: This is a guest post by Meredith K. on behalf of ReadySetEat. For more easy recipes for dinner that are perfect for spring, visit www.readyseteat.com.