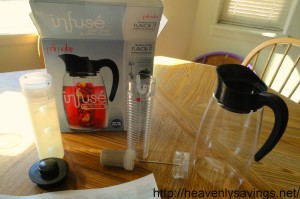 My Thoughts on Primula 3-in-1 Beverage System
Summer time is around the corner which means fresh fruits and veggies, BBQ's and refreshing beverages!
Primula's 3-in-1 Beverage System is my new favorite addition to my kitchen. I am a lover of water but there are times that I want a little flavor added to it without all the high calories.
The Primula 3-in-1 Beverage System is a pitcher that contains an infuser for your fruits and veggies, a Chill Core that you can freeze to keep your beverage cold at all time, and a tea infuser for those delicious teas!
As soon a my Primula 3-in-1 Beverage System showed up at my house I rushed to get it out of the package and put it to use. I host a lot of get together's and BBQ's at my house all year round and I wanted to test it out before my next get together.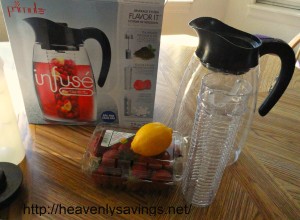 I just happened to have strawberries and lemons on hand the day the Primula 3-in-1 Beverage System arrived. I could not wait to get started so I washed everything up and got to dicing.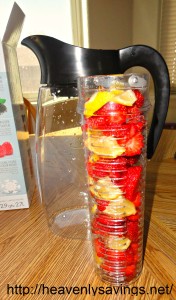 The 3-in-1 Beverage System is very easy to use. All I had to do was dice up the fruit and place it into the infuser. Then I put the infuser inside the Beverage System and added water.
There are thousands of beverage combinations you can use with this 3-in-1 Beverage System. I can't wait for all the concoctions I can come up with.
For my strawberries and lemons I used 1 package of strawberries and 1 lemon. I let the pitcher sit in the fridge for 4 hours before serving. The water was lightly flavored and perfectly delicious. We even let it sit the next time over night and in the morning….oh. so. good!
I really am in love with this 3-in-1 Beverage System. It is simple to use and the three different functions will allow you to please every guest that ever comes to your home. I really do recommend this product to everyone. It really is superb!