Apple Streusel Pancakes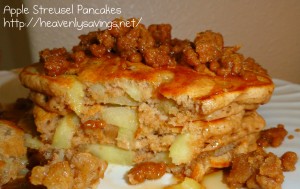 I have been on the lookout for a great pancake recipe. I never really do anything fun with my pancakes except the occasional handful of fruit being thrown into the batter. This time around I really wanted something over the top! That is exactly what I with this amazing Apple Streusel Pancake recipe! I am also excited because I know these delicious pancakes will make the perfect Easter Breakfast!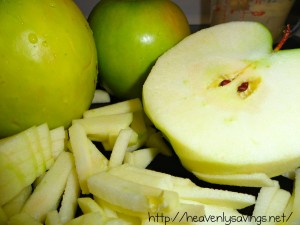 Ingredients:
For the Streusel topping:
1 flour
½ cup brown sugar, packed
½ cup soft butter
½ tsp ground cinnamon
1/4 cup apple sauce
1/4 cup quick oats
For the Pancakes:
1 ¼ cup flour
1/2 tsp salt
2 tsp baking powder
3 tbs brown sugar
1 tsp cinnamon
1/2 tsp nutmeg
1 egg
1 cup vanilla almond milk
1 tsp vanilla extract
1 granny smith apple, peeled and diced
Instructions:
Add all streusel ingredients to a bowl and mix well.
In a large bowl add all dry pancake ingredients and mix until well blended.
Next add all the remaining ingredients to the dry mixture and stir until well combined.
Next heat griddle to 375 degrees.
Lightly grease griddle with butter.
Using 1/4 cup measuring cup, pour batter onto griddle leaving about 2″ between each pancake.
Cook pancakes until edges start to bubble and look dry.
Using spatula slide under pancake to flip. Cook on other side about 1-2 minutes or until golden brown in color.
Serve with Streusel and Maple Syrup! Enjoy!
These pancakes were amazing but I can honestly say they were super sweet as well. But they are a great recipe idea for special occasions and birthday breakfasts!
Don't forget to click the 'Magic' button below for Nutritional Information and Weight Watcher's points for this recipe!

I got inspiration for this recipe from Domestic Fits!