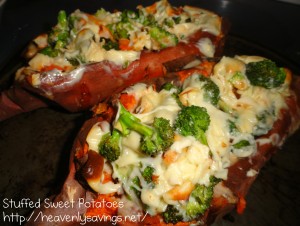 Sweet Potatoes are not just for Thanksgiving…..they are for any time of year! Plus who does not like stuffed baked potatoes? This is a recipe that is bursting with flavor! Yum!
Stuffed Sweet Potatoes
Ingredients:
4 sweet potatoes
1 cup Monterey Jack Cheese
1 bundle broccoli diced
4 cloves pressed garlic
1 small onion
1/2 package bacon
Preheat the oven to 450 degrees F.
Poke sweet potatoes sporadically with a fork before placing in oven for baking.
Bake for  45-50 minutes or until tender.
In large skillet fry bacon until crispy. Remove from pan and drain grease only leaving about 1 tbs grease in pan for other ingredients.
Add garlic and onion to skillet. Saute stirring often until onion is caramelized. Add diced broccoli and saute about 5 minutes or until broccoli is tender.
Crumble bacon into bowl and add cheese. Mix together.
Once sweet potatoes are done baking, cut the centers out and remove some of the sweet potato filling. Stuff each potato with broccoli mixture. Sprinkle cheese mix on top and bake another 2-3 minutes or until cheese is melted.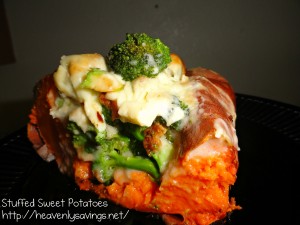 I usually stuff my regular potatoes with these ingredients before baking and it is a huge hit at my house. I was a little nervous at first because I did not know how these flavors would mix with the sweet potato. But it was delicious. My family could not get enough!
For Nutritional Information and Weight Watcher Points don't forget to click the Magic Button!