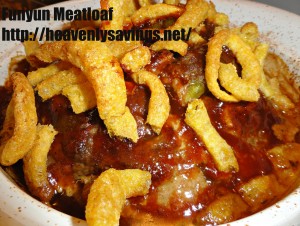 BBQ Funyun Meatloaf
Meatloaf…what can I say. Some love it and some hate it. When I first moved to a new town my husband quickly made friends with a guy who loved to cook. He would rave about his amazing modernized meatloaf. To be honest it actually sounded really good so my family gave it a try. It is now a staple in our home. My husband cooks twice a week and I must say that he makes this at least once a month and each month he switch's out the 'chips' that he use's to give this meatloaf a fun twist. In this recipe he used Funyun's but he has also used Doritos, Cheetos, and Lays, or even a mixture of all of them! Another fun thing you can mix and match is the BBQ sauce. I have never found a BBQ sauce that does not taste amazing in this recipe, so grab your favorite one and have some fun!
Ingredients:
4 lbs ground beef (can also use Turkey, Chicken, etc….) 4 oz Funyons + some for top 1/2 bottle BBQ sauce (any flavor) – 1/4 in meat and 1/4 for top 2 eggs 1/4 tsp pepper 1/2 tsp garlic powder green bell pepper diced medium onion diced
1. Preheat Oven to 350 degrees
2. Add ground beef, onion, green bell pepper, pepper, garlic powder and eggs to large mixing bowel. Using hands mix ingredients together until everything is blended into the meat. Now add BBQ Sauce and Funyuns and continue to mix the meat with your hands until all is blended together.
3. Place meat into baking pan. Bake in oven on 350 degrees for 45 minutes. After about 45 minutes add remaining BBQ sauce to top as well as a few more Funyuns and continue baking another 15 minutes or until meat is cooked through. (Meat should be around 160 degrees for beef/pork, 165 degrees for poultry.)
Enjoy!