My Thoughts on See's Candy
I am so excited for Easter this year. With Easter comes warmer months and spring time flowers. Oh and don't forget Easter Candy! Yum!
Recently I was sent an amazing package from Sees.com. They are my one stop shop this year for Easter Candy and I must say that I was thrilled with the quality and taste of everything that arrived.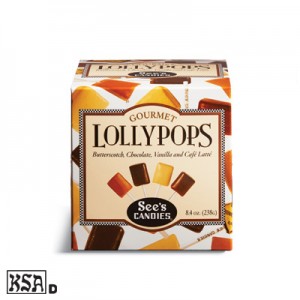 Sees Candy Lollypops – The Sees Gormet Lollypops come in 4 different flavors. Butterscotch, Chocolate, Vanilla and Cafe Latte. The box was stuffed full of lollypops and contained 3 of each flavor. They were also a good sized lollypop and I was able to enjoy the flavors for a long time! Yum!
My favorite lollypop flavor is the vanilla. It has a milky and smooth taste. Positively amazing! These are truly something I will be purchasing in the near future.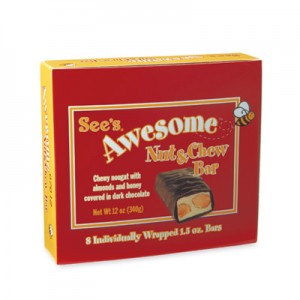 See's Candy Awesome Nut & Chew Bar – Oh my…this is my new favorite candy bar. I am not even joking. It really is amazing. This chewy candy bar contains all my favorite thing;. chocolate, almonds, and honey! Wow! The candy bar is the perfect combination. The See's Awesome Nut & Chew Bar box contains 8 candy bars individually wrapped.
My husband hates dark chocolate. I mean really really hates it. When he seen me eating one of these candy bars he grabbed another out of the box and I thought…Here we go. He's going to hate this. But he loved it. This is the first candy with dark chocolate that he has ever enjoyed. He really loved it as much as I did! Yum!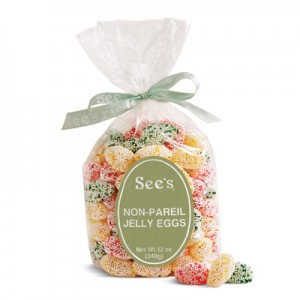 See's Candy Jelly Bird Eggs – See's Jelly Bird Eggs are the perfect alternative for the child that might not like Jelly Beans. These were chewy and delicious  Plus the fun bright colors make them the perfect addition to any Easter basket.
The Jelly Bird Eggs come in three different flavors. Yellow = Lemon, Green = Lime, Red = Cherry! Each jelly egg is also covered in yummy candy speckles!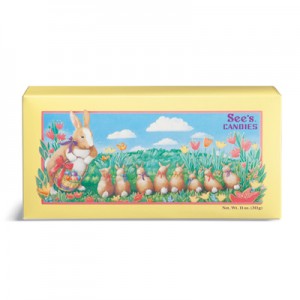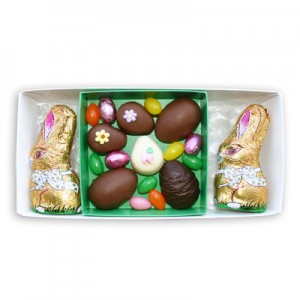 See's Candy Easter Assortment – See's Easter Assortment is the perfect candy mix for your loved one. The assortment contains two chocolate bunnies, two marshmallow eggs, Scotchmallow Egg, Three decorated eggs: Chocolate Butter, Vanilla Chip and Orange, Jelly Beans, and Milk Chocolate Foil Eggs.
The first thing I ate in this box was one of the marshmallow eggs. Yet another hit. These eggs were amazing. Especially the Scothmallow Egg. There is dark chocolate wrapped around a layer of Scotch flavoring and a layer of marshmallow. Oh my!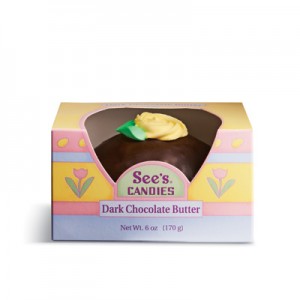 See's Candy Peanut Butter Egg- I am a sucker for anything with chocolate and peanut butter. They are my favorite flavor combination when it comes to candy. In fact I love it so much that I actually saved it for last and I will be enjoying this amazing chocolate peanut butter egg as I write this review.
The Peanut Butter Egg is 4oz. of nothing but heaven. Milk chocolate around a perfect peanut butter. AMAZING!
All in all See's Candy was simply amazing. I honestly am usually not a huge Easter Candy fan. I find that a lot of it is too sweet for me. That was not the case with any of the See's Candy. Each item exploded with flavor. See's is a brand that I will purchase from in the future. Not just for Easter Candy but for any of my candy needs. This really is that tasty.
How would you like to try some See's Candy of your own? I am so excited to say that one lucky US reader will win a $25 See's Candy Gift Card.