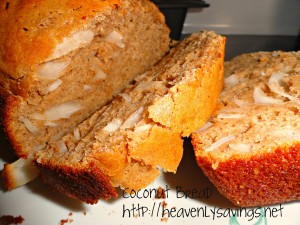 Delicious Homemade Coconut Bread!
Oh my I can't get enough of all the coconut lately. It is giving me a chance to cook all kinds of new foods. One of them being coconut bread which is something I have never heard if before let alone made. That is until now!
When I was a child I hated coconut. It was one of my Mom's favorite things to cook with. She would purchase anything with coconut in it because she loves it so much.
Now that I am getting older I realize that I am starting to like coconut more and more. Recently I have been able to experiment with lots of great coconut recipes. This amazing bread is one of my favorites that I have made. The whole family loved it and I even made some for my Mom. She was thrilled, after all these years of loving coconut she has never made it in bread before and could not wait to give it a try!
Ingredients

2 eggs
1 1/4 cups vanilla almond milk (can use regular milk as well but the vanilla almond milk makes it tasty!)
1 teaspoon
vanilla extract

 ( I used my home made extract)
2 1/2 cups flour
2 teaspoons baking powder
1/2 teaspoon salt
1 cup sugar
3 teaspoons cinnamon
1 coconut shredded finely
6 tablespoons unsalted butter
Soft butter for greasing the pan
Preheat an oven to 350 degrees F.
In a large bowl combine eggs, milk and vanilla. Slowly add flour, baking powder, cinnamon, sugar, butter and salt.
After ingredients are mixed well add coconut and mix again.
Use butter or olive oil to grease bread pan. Pour batter into pan and bake until golden brown or until inserted fork comes out clean. About 1 hour.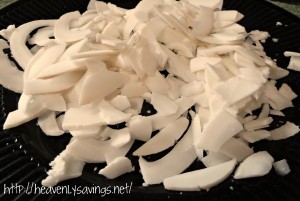 Need help opening that coconut? Don't forget my tutorial here!
I got the inspiration for this recipe from Seven Spoons!