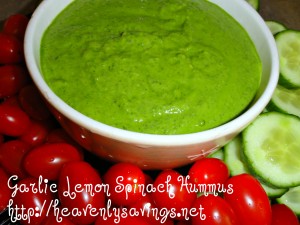 Garlic Lemon Spinach Hummus Recipe!
I can't get enough of these Bountiful Baskets. I love all the great produce I get each week at such a low price. Recently I had two bundles of spinach to use up. My family told me they wanted me to get creative with it so that is exactly what I did. I decided that spinach hummus was the perfect idea. Not to mention that it would also help me use up all the other veggies I had on hand like tomatoes and cucumbers.
My family don't usually like hummus so I knew I was going out on a ledge with this idea. But I decided to take that chance anyway knowing that I at least would enjoy it.
The hummus turned out to be exceptional and the whole family went back for helping after helping. It was a great dinner idea and it turned out to be super easy to make thanks to my Magic Bullet!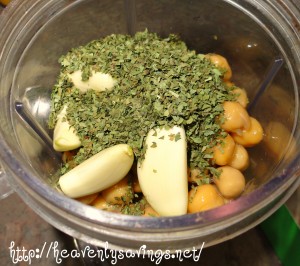 Ingredients:
1 can chickpeas, rinsed and drained
4 cloves garlic, peeled
3 tbsp. dried cilantro
1 bundle spinach (about 3-4 cups)
 lemon juiced
1/4 cup olive oil
1.- The first thing I did when making this Garlic Spinach Hummus Recipe was add the chickpeas, garlic, cilantro and juice of lemon in the magic bullet. I let that run until well blended.
2. Next I emptied half the mixture out of the bullet and into a bowl. I then added the spinach and olive oil to the magic bullet. I mixed again until well blended.
3.- This you could do two ways. You can then add the magic bullet mixture with the leftover chicpeas mixture int he bowl or vice versa…just as long as you get it all mixed together!
4.- Serve with sliced veggies of choice! Enjoy!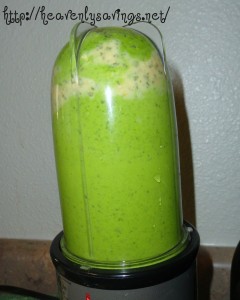 We served cucumber and tomatoes with ours but I know that any veggies would taste amazing! You could also use a food processor if you don't have a bullet at home.