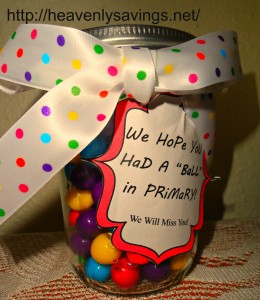 Easy DIY Thank You Gift Idea
Look! I found another copy cat craft idea on Pinterest!
Recently I was on the lookout for another gift idea for the Primary Teachers. This gift idea is for anyone who might be released from their calling as a Primary Teacher. But, you could also use this gift idea for just about any occasion where you have someone leaving and you want to thank them for what they did.
On my lookout for a great, cheap gift idea I came across these super cute jars filled with gum balls. I knew that this was the perfect idea and it really helped that I had everything except the gum balls already on hand. All I had to do was hit my pantry for the empty canning jar and my craft room for the ribbon! It was really that simple and easy.
The most time consuming thing on this whole project was making the tag. I am not the most computer savvy person when it comes to Microsoft Word but I did it and I think it turned out great!
Items Needed:
Canning Jar Gum Balls Printer Paper/ Printer Ribbon Double Sided Tape Scrapbook Paper or Cardstock
The first thing I did when making these cute DIY Thank You Gifts was find a jar that would hold the gum balls I just purchased. Of course you will want to make sure it is nice and clean.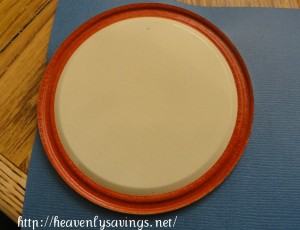 Then I took a piece of cardstock, double sided tape and a canning jar lid. I taped the top of the lid to the cardstock and cut around it. This added a little decoration to the top of the jar.
Then I dumped the gumballs in the jar and placed the lid on top. Next I designed the gift tag. Like I said before this was the most difficult part but really it was easier then I make it sound. You could have this say anything you like on it. I wrote "We Hope You Had  A Ball" on mine so that it tied in with the gum balls.
After the gift tag was printed I used a hole punch to make a hole in the top and then tied a ribbon around the jar and through the whole on the gift tag. That was it…it really was that simple to make a DIY Thank You Gift!
I got the idea for this gift from Ginger Snap Crafts!