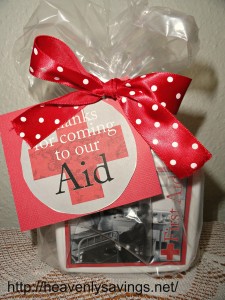 Cheap and Easy Thank You Gift!
I am loving my calling in the Primary Presidency. Recently I was given the opportunity to make up some great gifts to Thank the Teachers for everything they do. I was excited to come home and find the most perfect gift ever for these amazing teachers and I soon came across Wonderwoman Creations. Now I must say I was thrilled with all the fun stuff she had on her site and immediately feel in love with these super cute, Cheap and Easy Thank You Gifts!
Now I did not do all the hard work on this one but it was so cute I knew I just had to share with you. This is my copy cat gift that I made from her site. I love how easily they came together. Plus they will fit well with anyone's emergency preparedness kits!
Do you have a friend or loved one that you need to give a special thank you gift to? These will work wonderfully as a Thank You gift for any occasion.
Items Needed:
small first aid kit (I purchased mine in the travel section of Target for $0.97) double sided tape or scrapbooking tape clear gift bag  ribbon printer paper and printer scrapbook paper or cardstock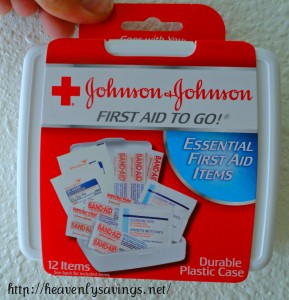 The first thing I did was take the wrapping off the first aid kit.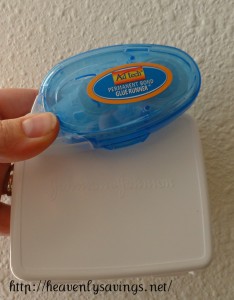 Then I got my scrapbook tape ready to tape on the printable I got from Wonderwoman Creations. (They are Free to print)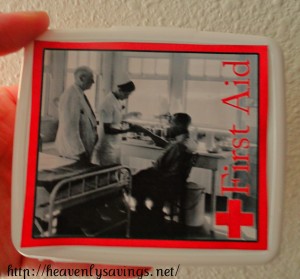 Once the printable was on I got ready to do the card-stock for the little gift tag.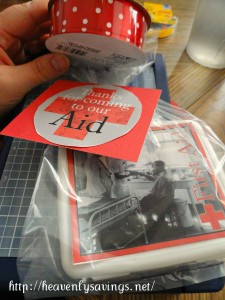 Once the gift tag was on I put the kit into the clear bag and got my ribbon and hole punch to help tie the bow around the bag. See how simple that was?
If you would like to put these together you can find all the printable on Wonderwoman Creations! Enjoy!