Bamboo 3-in-1 Organizer Review!

ToiletTree Products Bamboo 3-in-1 Organizer is so stylish and beautiful that you are going to not only want one for yourself but grab one for the next wedding you attend or birthday party or stock up for Christmas. You can't go wrong with Bamboo! This is a great organizer for your bathroom!
For starters, having your toothbrush holder, lotion dispenser and soap dish all matching is a great thing! They can be stored in a very organized way or both the toothbrush holder and lotion dispenser can actually come out and be placed elsewhere if you want to have the soap dish somewhere else like the kitchen.
I happen to be a huge fan of bamboo and love that this 3-in-1 combo is eco-friendly! This entire set is very sturdy and smooth and the silver dish soap tray can come off for an extremely easy clean up! The silver toothbrush holder can also come off for easy clean up or if you have a battery operated toothbrush like me, you can just have the toothbrush holder without putting the silver four holed tray on at all! The lotion dispenser comes out for easy an easy refill of your choice of lotion or even liquid soap.
Bamboo is naturally durable and basically waterproof, so having this in the bathroom with water near or on it, won't affect the bamboo at all. This can withstand little hands knocking it over repeatedly which is a huge plus in my book!!
If you want to head over to http://toilettreeproducts.com and see their entire bamboo collection along with their ever so popular no fog mirror for the shower!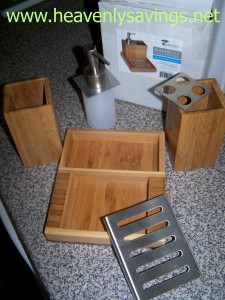 ~Tammy~
** I was sent a copy of this product for the purpose of this review. However, my own opinion was used and not influenced in any way.