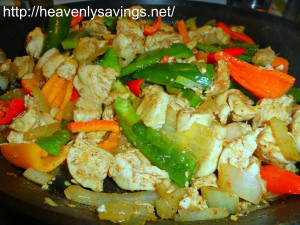 Ingredients
4 tablespoons olive oil
1-1/2 teaspoons fajita seasoning
1 teaspoon garlic powder
1/2 teaspoon chili-lime seasoning

1/2 teaspoon

crushed red pepper flakes
1 1/2 pounds boneless skinless chicken breast, cut into thin strips
1 red bell pepper, julienned
1 green bell pepper, julienned
1 yellow onion
6 flour tortillas (8 inches), warmed
Extras
Salsa, shredded cheese, hot sauce, guacamole and sour cream.
Directions
In a large skillet saute sliced chicken in olive oil over medium heat for 5-6 minutes or until browned and no longer pink.
add peppers, onion and spices. Saute until onions are transparent and peppers are soft.
You can now serve your fajita meat like it is or spoon it into a tortilla! Add whatever toppings you might like such as salsa, guacamole  sour cream, cheese, etc…..Enjoy!