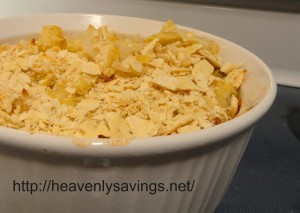 Thanks to Bountiful Baskets I have been receiving lots of cabbage here recently. I love cabbage. It is one of my favorite vegetables because there are so many fun things you can do with it.
This week I decided to do something I have never done with cabbage before. I decided to make a Cabbage Casserole! It turned out amazing so I thought I would share with you!
Ingredients:
1 stick butter + some for buttering dish 1 medium size head cabbage, cored and sliced 1 onion chopped 1 1/2 cup milk 4 eggs 1 sleeve salted crackers crushed 1 tsp salt and vinegar seasoning (I get mine from Buffalo Wild Wings) – can also use regular salt
1/4 tsp black pepper  
Directions:
1. Preheat oven to  350 degrees F.
2. Butter casserole dish
3. melt 1 stick butter in skillet on low heat.
4. Add cabbage and onion. Cook over medium heat until soft (about 20 minutes)
5. Stir in milk and bring to a boil. Lower heat and simmer 5 minutes.
6. Add lightly beaten eggs and 1/2 sleeve crushed crackers. Stir into cabbage mixture.
7. Pour into casserole dish and sprinkle remaining crushed crackers on top.
8. Bake 350 degrees for 20-30 minutes or until top is golden brown.
I got the inspiration for this recipe from Recipe.com!