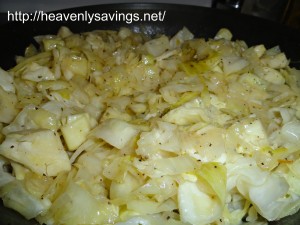 Salt and Vinegar Fried Cabbage
I love fried cabbage! It is one of my all time favorite things to eat. Recently I received some amazing cabbage from Bountiful Baskets. I was excited to get it home and fry it up for dinner!
Ingredients:
1 head cabbage cut into strips 2 tbs salt & vinegar seasoning (I bought mine from Buffalo Wild Wings) 1/4 c butter 1 small onion
 1.- Melt butter in large skillet.
2.- Add cabbage and onion. Cook over medium heat until soft. About 20 minutes.
3.- Sprinkle with Salt and Vinegar seasoning just before serving.
Enjoy!