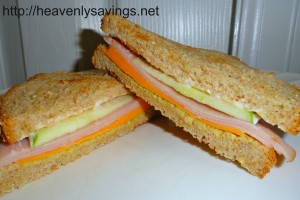 Green Apple Turkey Sandwich
Recently I have been trying to find different recipes using apples. I have been getting a lot of them recently and when I heard about putting them on a turkey sandwich I was intrigued!
Ingredients:
Wheat bread Turkey lunch meat thinly sliced cheddar cheese green apple thinly sliced Mayo Mustard   
1.- Toast bread.
2.- spread mayo on one slice and mustard on second slice.
3.- layer turkey meat, cheddar cheese and apple slices on one slice of bread. Top with the other slice.
4.-  Cut sandwich in half and enjoy!