My Thoughts on Ride Along the Dinosaur Train!
Dinosaur Train is at it again. This time with an all new episode and an amazingly fun book that the kids will love! Have you seen the all new Dinosaur Train Submarine Adventure on PBS? It is a new amazing one hour special that can be found this month on PBS! (Air date is Feb 18th)
But wait, that is not all that Dinosaur Train has to offer! You can also score a new Ride Along the Dinosaur Train book from Grosset & Dunlap. This book is super cute and creative in a way that will let the kiddo's interact with them! What I mean by that is there is fun tab's at the top and a train that the kids can really drive down the track to visit all the great dinosaurs they meet along the way. What a cute, ingenious idea! I love it!
Still can't get enough….there is even MORE! Yep that's right. With Valentines Day around the corner you can print off these super cute Free Dinosaur Train Valentines for your little one and their friends! Enjoy!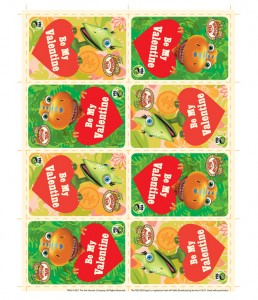 From Press Release
This February Buddy and friends are going on an undersea adventure an all-new invention, the DINOSAUR TRAIN submarine.  The episodes will feature four new stories about sea creatures that lived long ago!
Did you know that Aristotle (384-322 BC) is often referred to as the father of marine biology?  Aristotle is the first to record observations on marine life, and identified a variety of species including crustaceans, echinoderms, mollusks, and fish.  However, until submarines were invented, it was almost impossible to explore the deep ocean.  Today, submarines are used by marine biologists to collect samples, take videos and observe sea life in ways that humans would not be able to do!  Marine biologists are able to work at depths of several hundred meters for hours in these special submarines!
There is so much to discover under water.  Just recently in December 2012, a giant, marine reptile that roamed the seas around 150 million years ago was identified as a new species.  The animal, now named Pliosaurus funkei spanned about 40 feet, had a massive 6.5 foot long skull and a bite as powerful as a Tyrannosaurus rex.
How would you like to win the awesome new Dinosaur Train Book? One lucky US reader will be able to do just that! Good Luck!