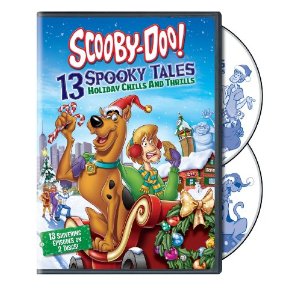 My Thoughts on Scooby-Doo! 13 Spooky Tales Holiday Chills and Thrills
Scooby-Doo is my daughters favorite cartoon of all time. She loves the mysteries and tries to solve them before Scooby and his gang. In Scooby-Doo Tales Holiday Chills and Thrills contains 259 colorful, mystery filled minutes and more then 10 Scooby episodes AND a new 22 minute movie!
Episodes include:
Disc 1- Scooby-Doo! Haunted Holiday's (All-New Original 22-Minute Movie), Scooby-Doo! Christmas, Tenderbigfoot Snow Job Too Small, The Nutcracker Scoob. Part1, The Nutcracker Scoob Part II, A Scary Night with a Snow Beast Fright
Disc 2- Scooby-Doo Meets Laurel & Hardy AKA The Ghost of Bigfoot, There's No Creature like Snow Creature, Rocky Mountain Yiiiii, That's Snow Ghost, Whatta Shocking Ghost and Toy Scary Boo
On the Back
The snow is falling and a chill (and plenty of thrills!) is in the air – it's wintertime with Scooby-Doo! Scooby-Doo and the gang have a merry mystery to solve in the all-new episode Scooby-Doo! Haunted Holiday's! An age-old curse is threatening the Menkle family toy store – the curse of the sinister snowman! It's up to the Scooby-Doo! crew to unwrap this sinister plot and save the toy store. Can they stop the menacing snowman before it's too late? Then, bundle up for 12 more wintry episodes featuring your favorite kooky K-9 detective. From snow beasts to snow ghosts, it's chills and thrills indeed in this blizzard of fun for the whole family!
 ** I received a copy of this title for the purpose of this review. However, my own opinion was used and not influenced in any way!