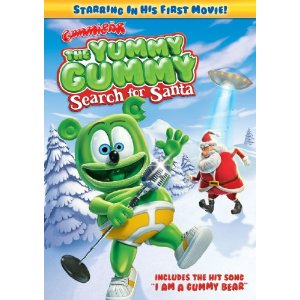 My Thoughts on The Yummy Gummy Search for Santa
Recently I was sent a copy of The Yummy Gummy Search for Santa for the purpose of this review. I must say that I was not expecting much and I did not get much with this DVD. To be honest I am a strict parent when it comes to what the kids watch on T.V. The truth is I have lots of cartoon's blocked because I can not stand to listen to the rude and vulgar language of many of today's cartoons.
Rude and vulgar is exactly what I got with this DVD. I should have expected that since the front cover of the DVD case shows a gummy bear in his underwear.
Within the first 10 minutes of this DVD there was farting noises as well as weight jokes about Santa. Defiantly not the Christmas cheer that I want to share with my family before Christmas.
I know that I am uptight when it comes to cartoons but I honestly can't see any age that this would be appropriate for.
On the Back
When Santa vanishes on Christmas Eve Gummibar and his band of wacky misfit friends shake their booties from the North Pole to the tropics on a madcap search. But when they discover Santa was abducted by a dance-crazed alien the fate of Christmas morning rests in the hands – and feet – of our lovable green gummy bear! Featuring the #1 hit "I Am a Gummy Bear (The Gummybear Song)," two holiday-themed songs and other Gummibar hits saving Christmas has never been this much fun!
** I was provided with a copy of this title for the purpose of this review. However, my own opinion was used and not influenced in anyway!