Smile Brilliant! Review!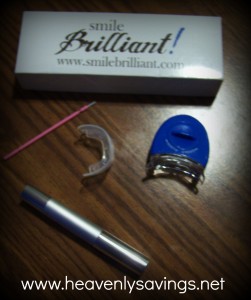 My thoughts on Smile Brilliant! Teeth whitening system – If you are looking for a very affordable way to whiten your teeth, this product is it!
There is nothing better than having a pearly white smile! I am blessed to have white teeth and I was so very excited to use this extremely easy teeth whitening on my husband! He was a trooper for sure and he also was surprised at how easy it was to do a session! It doesn't take long to get the system set up at all.
There is the LED accelerator light, a flexible (and very comfortable might I add) teeth tray, and the gel pen. In just a few easy steps you are on your way to a brighter smile in the comfort of your own home and on your own time as well!
We first put the gel on his teeth with the brush gel pen, and then added the tray for him to bite down on, he then put the LED accelerator light over the tray and then all he had to do was just sit down, play his video games and wait. One of the rare times I actually made him sit and play while we timed his session! He sat with the tray and light in for 30 minutes even though you can leave it in for longer if you need it to. We did three sessions and we did wait a few days in between because he can get sensitive gums if he uses it more than that. We will do more sessions for sure but we can definitely see difference, especially with his two front teeth which needed it the most.
We were very happy with the results of this whitening system and the best part is that it truly is affordable! You don't have to go into the dentist anymore! This is a great system to have and there are so many products and packages for you to choose from. Smile Brilliant! Even has a couples' package! What a fun way to improve your smile!

~Tammy~
** I was sent a copy of this product for the purpose of this review. However, my own opinion was used and not influenced in any way.