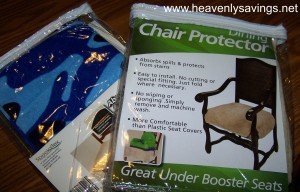 My thoughts on the CleanSeat Chair Protector – As a mom I am always looking for an easy way to keep things clean and seriously it doesn't work as easily as I hope most of the times, but, then there is the CleanSeat Chair Protector and I was curious to see what it could do. To my amazement this product has got to be one of my favorite items yet!
The CleanSeat Chair Protector is super easy to fit onto any chair and I actually used one in the car to go under my son's booster seat. So many times I am trying to sweep crumbs off of the seat with my hand but now, I just take off the CleanSeat Chair Protector and give it a shake outside and it's done!
The CleanSeat Chair Protector is super soft and fits perfectly on my dining room chairs as well. No more stressing out if they will get spilt on! On the backside is a black layer of material that makes it leak proof for a super easy clean up! You can toss them into the washing machine if you need to for a quick clean up! How cool is that?!
My son happens to love the blue camouflage style under his booster seat and he is actually now trying NOT to spill and get crumbs everywhere so he can keep it clean. So very thoughtful yet I know that if anything happens like it usually does, this time it will be a simple clean up and save my upholstery in my car which makes dad especially happy!
Along with this great product, they also have ones that fit perfectly for a highchair, a full vehicle seat protector, and an ingenious one in my opinion, the fitness towel protector for when you are at the gym. These are so handy and would be great for the upcoming holiday season to protect your chairs!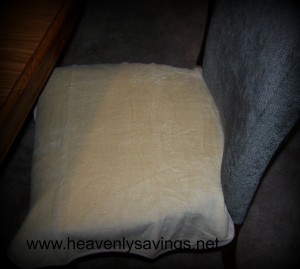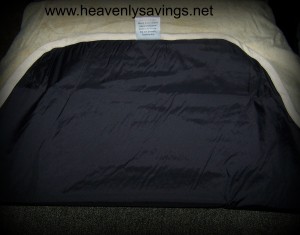 ~Tammy~ 
** I was sent a copy of this product for the purpose of this review. However, my own opinion was used and not influenced in any way