Vitacost is still offering their FREE $10 credit when you sign up for Vitacost rewards through a referral link. After you sign up you will get an e-mail containing your special $10 off promo code to be used on ANYTHING on their site. Please make sure you have that promo code before heading to the checkout!- Sign up for FREE $10 HERE
Vitacost has just about everything on their website from food to cleaning supplies AND they have it at a great deal and much cheaper then I can find the items for in-store!
Check out one example of what you can score with your FREE $10 off Credit!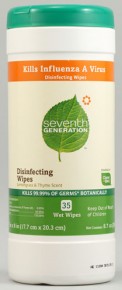 I am addicted to Vitacost! I have always shopped at my local Whole Foods market but Vitacost has the same stuff and the price is unbeatable! Here is yet another deal you could score for almost Free with the Free $10 off new sign up credit! – Even if you have already used your free credit Vitacost is still amazing and cheaper then retail!
Here is a deal I found on three household cleaners I use daily! Disinfecting Wipes, Laundry Soap and Toilet Cleaner! Did you know that with Vitacost's FREE $10 Credit you can get all 3 of those Household cleaners for just $0.58?
You will also have to pay shipping of $4.99 on this order but considering that the items would have cost you $14.67 at a Retail store that is a Savings of more then 50%! – Remember you can purchase ANYTHING with your FREE $10 Credit!
Also remember before you hit the checkout button to add 2 of their FREE samples to your cart! You may score 2 FREE Samples with Every Order!! Also orders of $49 or more ship FREE as well!