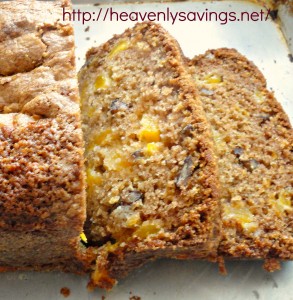 Recently I purchased the Mango Pack from Bountiful Baskets which gave me the chance to experiment with lots of great Mango Recipes! One recipe I knew I had to try was the Mango Bread Recipe! It just looked delicious and I must say…It was! Plus it is super quick and easy which is always a plus!
Ingredients:
2 cups flour
2 teaspoons baking soda
1 1/2 teaspoons ground cinnamon
1/4 teaspoon salt
1 1/4 cups sugar
3/4 cup vegetable oil
1/2 teaspoon vanilla (I used my Home Made Vanilla)
3 eggs
2 cups diced mango
1/2 cup chopped pecans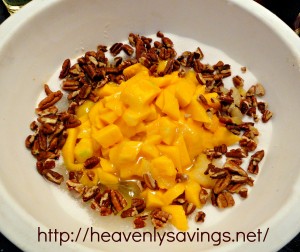 First off you will want to Place all ingredients into large mixing bowl and mix until well blended. Make sure to get down to the bottom of the bowl so that there is no clumps of flour.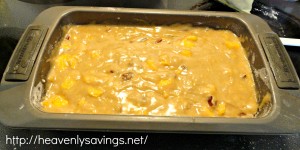 After all ingredients are well mixed you will need to pour ingredients into non-stick or greased and floured 9x5x3 bread pan for baking. (you could also use cupcake tin if you like but the baking time will decrees so watch to see when done) Bake at 350 degrees for about an hour or until toothpick or fork inserts into bread and comes out clean.
**This was a little difficult since the mango will still be sticky. If you see anything on the fork make sure it is bread dough and not mango.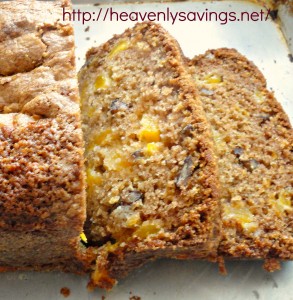 That's it! Let cool, slice, serve and enjoy!
To store the bread I found it easiest to pre-slice the pieces and wrap each piece in plastic wrap and then tin foil. I then placed the slices in the fridge. having each slice pre-wrapped makes it easy to grab slices and place in the kids lunch boxes each morning! It also helps the bread to stay fresher longer then leaving it out on the counter!
Do you like this Mango Bread Recipe? Don't forget to share on pinterest! For easy sharing links are below post!