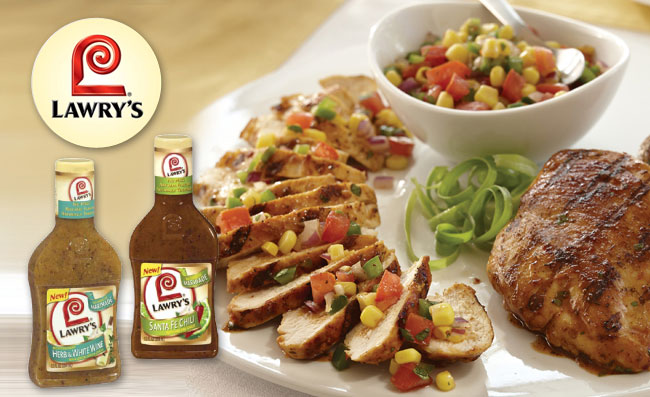 We use a lot of marinades at my house. Especially during the summer months when it is perfect weather for grilling! Recently I was able to review Lawry's new Santa Fe Chili and Herb & White Wine marinades! They of course were delicious!
Lawry's Herb & White Wine-
For this flavor I decided on grilled salmon. It turned out great! We just purchased some fresh salmon and came home to marinade. It takes 30 minutes to marinade before you grill. After the 30 minutes were up we wrapped the fish in tin foil and placed on the grill. We grilled the fish about 3 minutes per side (or until done).
That was it, then we had a perfect meal!
Santa Fe Chili- 
For this marinade I decided on steak. I had some elk steak in the freezer (any steak will work). I marinaded the steak for 30 minutes and then grilled it on the grill. After we grilled the steak's we sliced then and I placed them into flour tortillas and added fresh corn, tomatos, cilantro, onion and garlic. We then had home made fajitas! YUMMY!
I did receive a product for the purpose of this review Thanks to BzzAgent, However my opinion was used in this review and was not influenced in any way! All thoughts are my own and may vary from others.