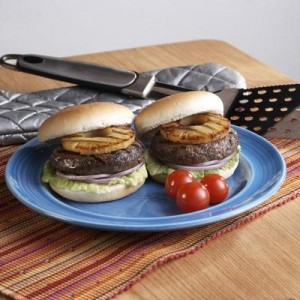 Teriyaki Burger Recipe
This mouthwatering burger is an easy way to liven up your typical hamburger. Making burgers on the grill is a delicious, low-fat way to cook them since the fat drips away during cooking. Now you can feel better about serving these tasty burgers to your family. Enjoy!
Ingredients:
2 pounds ground sirloin beef

1/2 teaspoon garlic powder

3/4 cup teriyaki marinade & sauce, divided

1/2 cup mayonnaise

8 slices fresh or canned pineapple, drained

8 hamburger buns

8 leaves green leaf lettuce

8 medium slices red onion
Directions:
Preheat grill to medium heat.

Mix ground beef with garlic powder and 1/2 cup teriyaki marinade in large bowl until well blended. Shape into 8 patties. Stir together remaining 1/4 cup teriyaki marinade with mayonnaise in small bowl. Cover and refrigerate.

Grill patties on one side until juices begin to appear on surface. Turn patties over. Cook about 4 minutes longer or until done. Grill pineapple slices until warm and slightly browned.

Spread mayonnaise mixture over cut surfaces of bun tops and bottoms. Layer lettuce and red onion on top of each bun bottom. Add patties, pineapple and complete with bun tops. Serve immediately


Chop bell peppers, eggplant, mushrooms, onions, and zucchini into pieces, soak in water for 30 minutes, pat them dry and spray with no-stick cooking spray. Throw them on the grill until they are at your desired level of tenderness and you will have a delicious, healthy side dish to go with your burgers.

Spray your grilling tools with no-stick cooking spray to keep them clean. This quick grilling tip can save you a lot of time.

Don't let canned fruits or vegetables scare you. If you're in a rush, using precut, frozen or canned fruits and vegetables in your meal-prep routines eliminates time spent cleaning, chopping, dicing, and peeling.
 -GUEST POST