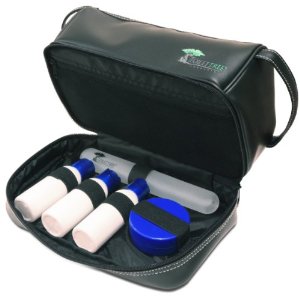 My Thoughts on The Toiletry Bag
As most of you know I just recently returned from an amazing Disneyland vacation with my family. We were away from home for 10 days which is much longer then most of the vacations we take. It took a lot of prep and planning and I had to pack a lot more items then I was used to packing.
My lifesaver on this trip was My Toiletry Bag that I received literally two days before we left. I was thrilled when it arrived because I was wondering how I was going to get all my shampoo's and other personal care items packed in a way where they would not leak all over my clothes on the way. This has happened many times in the past where I opened up my suite case to find that something had spilled all over my clothes!
The Toiletry Bag is the perfect size! It fit all my cosmetics and even my flat iron and hair brushes in the top and on the bottom there is a handy zipper and bottles where you can place your shampoo, conditioner, body wash and toothbrush. There is even a little collapsible cup and pill holder!
Everything fits in very nicely and I was able to place The Toiletry Bag into my suitcase knowing that I would not open it up and find a mess! I was thrilled with the bottle sizes for the shampoo and body wash.
The Toiletry Bag is made with double zippers on the top for easy access and a separate zipper on the bottom where your liquids go. The bag is made with water resistant interior and has a 1 year limited warranty. The bottles are TSA approved and individually marked for your convince.
Product Features From Amazon:
Product Features
Designed to organize all of your toiletries while traveling.

Large double zipper compartment for easy access. Separate zipper compartment located on the bottom of bag.

Bag comes with 3 TSA approved travel bottles, collapsible cup with pill holder, and toothbrush case.

Designed with a fully water resistant interior.

Can also be used as a makeup and/or medicine bag.
a Rafflecopter giveaway
I did receive a product for the purpose of this review, However my opinion was used in this review and was not influenced in any way! All thoughts are my own and may vary from others. I do not handle the mailing out of giveaway prizes and will not be held responsible for any mishaps that may occur to such items