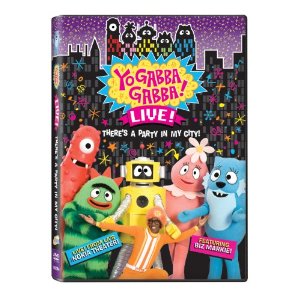 My Thoughts on Yo Gabba Gabba Live
There's a Party in my City
Last year I was given an opportunity that I thought would never happen! Tickets to review Yo Gabba Gabba live. It was the first time I had ever been to a show like that and it was a blast!
Now my family and I can re-live the fun again and again with Yo Gabba Gabba Live! This DVD even has Biz Markie and everything! Just like they did at the show we attended!
This DVD includes your childs favorite characters DJ Lance, Brobee, Foofa and the rest! There is singing, dancing and great story lines that will captivate and entertain your children for the whole 60 minutes of this DVD!
Along with the great DVD I was also sent Yo Gabba Gabba! It's Okay, Try Again! Childrens book! Now not only can I watch the greatness on t.v. But can read it to the kiddo's as well! The kids will enjoy learning about how it is ok to make a mistake and to keep trying until they get it right! What a wonderful thing to learn!
On the Back
Join DJ Lance Rock, Brobee, Foofa, Muno, Plex, Toodee and all your favorite Yo Gabba Gabba! Friends with their first-ever live concert DVD! Yo Gabba Gabba! Live!: There's a Party in My City is a non-stop musical extravaganza.
Get up on your feet to sing and dance along with over ten Yo Gabba Gabba! Favorites, including: "There's a Party in My Tummy," "Name Game" and "Get the Sillies Out."
This full-length concert is packed with special guests including beat-boxing legend Biz Markie performing "Biz's Beat of the Day," the incomparable Leslie Hall & DO IT teaching a "Dancey Dance" and "Super Music Friends Shoe" guests The Aquabats! Performing everyone's favorite, "Pool Party!"
Yo Gabba Gabba! Live! There's a Party in My City! will get the whole family singing and dancing no matter what city you're in!