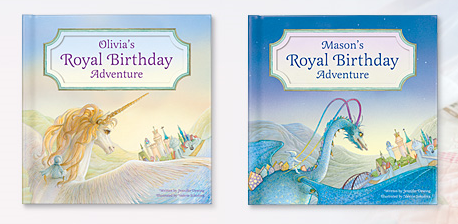 My Thoughts on I See Me
Every child wants to feel special and we as parents want to let our children know just how important they are. I See Me is a great way to make your child feel loved by doing something they love doing most- by reading! I See Me is a way to take your childs name and aspects about their life and incorporates it into stories they will love.
Recently I See Me introduced a new title to their brilliant collection! Royal Birthday Adventure is perfect for that little one that who wants to feel like a princess on their special day! The very first thing I noticed upon opening this book was the title page. Right away the book lets your child know that it is all for them with their full name as well as the date they were born. There is also a special message from the person who had the book made (Mom, Dad, Uncle, Aunt, Grandparents etc…)
Royal Birthday Adventure will take your child on an amazing journey. From awaking to royal trumpeters to seeing a birthday cake decorated by the Kings bakers! You will also get the chance to meet dragons, jugglers and jesters. Throughout the book your child will be able to spot their name not only in the story but also in the bright and colorful pictures. You will also be able to customize the guest list with people your child knows and loves.
I love books and I read to the children in my home often. I am thrilled with the idea of incorporating their names and likes into the story. What a special way to mark a childs birthday and a way to let them know just how amazing they really are!
Other I See Me Titles
My Very Own Name
My Very Own Fairy Tale
My Very Own Pirate Tale
The Super, Incredible Big Brother
The Super, Incredible Big Sister
The World According To Me
Who Loves Me?
God Loves You!
A Christmas Bear for Me
A Hanukkah Bear for Me
My Very Merry Christmas
My Very Happy Birthday
My Royal Birthday Adventure
Want to see more about I See Me? You may follow them on these social media outlets as well!
I did receive a product for the purpose of this review, However my opinion was used in this review and was not influenced in any way! All thoughts are my own and may vary from others.