You all know how much I love to cook things that are different. I had never before thought about cooking radishes let along grilling them and once I seen the recipe I knew I just had to give it a try!
Ingredients:
20 oz radishes sliced 2 cloves garlic minced 2 Tbs Butter 1 Ice Cube dash salt and pepper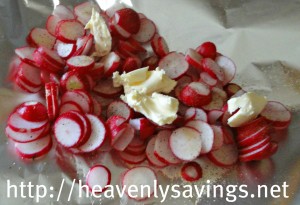 1. Preheat grill
2. Slice Radishes and place on sheet of tin foil. Add garlic, butter, ice cube, salt and pepper.
3.  Wrap contents tightly in tin foil ( I would recommend double layering the foil)
4. Place on grill and cook 20 minutes.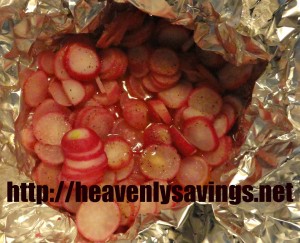 I found this recipe on All Recipes!