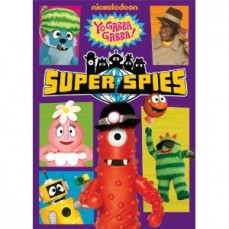 Yo Gabba Gabba
Super Spies
A few years ago I was introduced to Yo Gabba Gabba. In fact I had the pleasure of going to Yo Gabba Gabba live once and it just made my love for them grow.
Recently I was able to review Nickelodeon's Yo Gabba Gabba Super Spies on DVD. It seems that the Spy theme is really popular with kids right now so I was excited to see Yo Gabba Gabba jump on the band wagon! What child does not want to find clues and solve a mystery? Your kids will enjoy watching their favorite characters find clues that lead them to Bateman the balloon art thief! Or how about a missing Foofa? Will they be able to find her? You will have to watch and see!
On the Back
Super Spies- When a bad spy named Bateman makes off with the Gabba Land gang's balloon art, it's time for a musical spy recovery mission full of gadgets, robot guards, and great beats!
Mystery- Foofa has disappeared! Toodee and Piex search for clues to find Foofa…and they meet her brother, Foofle! It's musical mystery that must be solved!
Space- DJ Lance Rock and friends blast off into outer space to sing with the starts and dance with new alien friends!
Big- Brobee is frustrated about being the little one, but when he accidentally switches places with DJ Lance, he finds out that being big may be harder than it looks!
I did receive a product for the purpose of this review, However my opinion was used in this review and was not influenced in any way! All thoughts are my own and may vary from others.