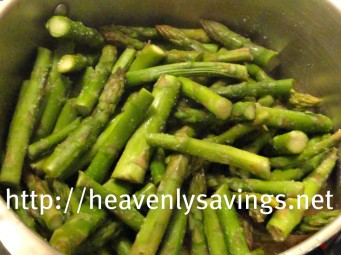 Asparagus is one of my most favorite veggies! It is also a favorite of my family as long as it is cooked correctly! What do I mean by that? Well cooked to a soft crisp instead of a mushy mush!
Ingredients:
1 Bunch of Asparagus 1/4 c White Wine 1 Tbs Butter 1/4 tsp Granulated Garlic  
1. First I add the Wine and butter to sauce pan and bring to a boil.
2. While I am waiting for sauce pan to boil I wash and cut asparagus. I normally cut off the hard ends and slice each piece in half.
3. Once Wine/Butter is boiling add the asparagus and garlic to sauce pan. Cover and simmer for 10-12 minutes or until asparagus is the consistency you like!