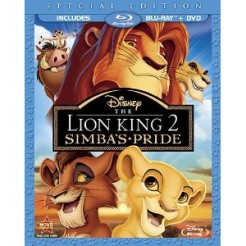 The Lion King 2
Simba's Pride
The Lion King is one of my favorite Disney Cartoons and to be honest it had been many, many years since I seen any of the Lion King movies so I was thrilled to get a chance to watch The Lion King 2 Simba's Pride with my family!
In Lion King 2 you will find the characters you know and love! Simba, Timon, Pumbaa and more! Plus a few new characters join the Pride! Yep that's right, Simba's daughter and Scar's chosen one! Will they together be able to save the pride or will Scar's revenge finally happen even after he has gone away? You will have to watch and see!
Ashes Thoughts
age 6
I really liked Simba's Pride. The Lions are cute and I like that they fall in love. Some of the parts were scary like the parts with Scar's followers. I did not want anyone to get hurt and I was afraid that they would all be hurt. It was a good movie and I want to watch it again.
On the Back
The king of animated films reigns in this final chapter of The Lion King trilogy, new breathtakingly beautiful for the first time in a 2-Disc Blu-ray Combo Pack! Experience the power of "Upendi" – which means "love"-as Kiara, Simba's strong-willed daughter, seeks adventure away from her father's watchful gaze. Timone and Pumbaa can only do so much to protect her, especially when she encounters an intriguing rival, Kovu, a cub sho is being groomed to lead Scar's pride. As Kiara and Kovu search for their proper places in the great "Circle Of Life," they discover that it may be their destiny to reunite their prides and bring peace to the Pride Lands.
I did receive a product for the purpose of this review, However my opinion was used in this review and was not influenced in any way! All thoughts are my own and may vary from others.