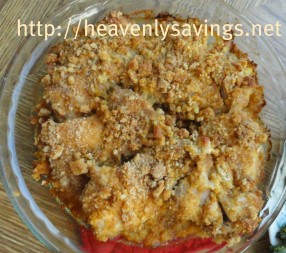 Ingredients:
1 egg 1/3 c Orange Juice 1 c herb-seasoned stuffing mix, crushed 1 1/2 tsp paprika 1 Tbs grated orange peel 1 tsp salt 8 skinless, boneless chicken breast halves 6 Tbs butter or margarine, melted Orange Slices    
Directions:
In a shallow bowl, add egg and orange juice. Beat together.

In second bowl add stuffing mix, paprika, orange peel and salt. Mix well.

Dip chicken into egg mixture and then into crumb mixture, coat well on both sides.

Pour melted butter into baking dish and place chicken in baking dish with melted butter, turning once to coat both sides of chicken with melted butter.

Bake uncovered at 375 degrees F for about 45 minutes or until chicken is cooked through. Garnish with sliced oranges and serve!
I got this recipe from AllRecipes.com!