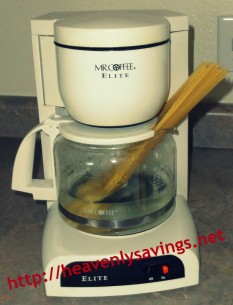 Growing up and moving out of your parents house can be hard! I know that when I first moved out I was broke and living off of pasta and anything else that was cheap! I also learned fun ways to cook things that did not require much effort on my part. One thing I learned how to do and still do today is cook spaghetti noodles in my coffee pot. Sadly since I am not a coffee drinker this is about the only thing that I use my coffee pot for.
All you will need to do is fill your coffee pot up all the way full of water. Mine is a 12 cup pot and so I do the full 12 cups full of water. After pouring the water in the coffee maker to get heated up I place the pasta inside my coffee pot coming out of the spout. Then I turn the pot on! – No filter needed!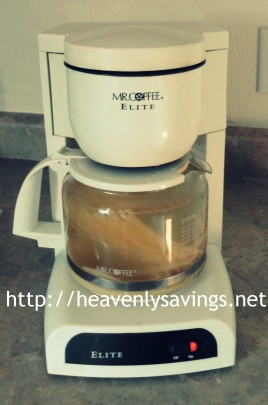 When the water is about half way in the coffee pot I slowly push the rest of the pasta into the pot as the bottom is soft and it will allow the top to cook! – When the water is fully in the pot and the noodles are all soft I just drain them in the colander! Just that simple!