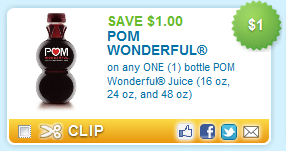 HOT $1/1 POM Wonderful
I love me some POM Wonderful!
Target Deal: POM Wonderful 16oz $2.99 (thru 2/18) Use $1/1 Printable
HERE
Final Cost: $1.99   I also believe that Walmart has these for around $1.97 – Can anyone confirm that? If so then a 16oz POM would only be $0.97 after Q….