Timmy Time
Timmy Needs A Bath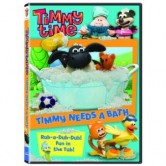 This is the first time I have ever seen a Timmy Time Cartoon. I must say it is pretty cute. In this DVD Timmy needs to take a bath but he is resistant and continues to find better things to do.
Unfortunately as he is trying to avoid his bath he is annoying everyone around him as he is very muddy and making a mess out of everything. Will Timmy ever take his bath? You will have to watch and find out!
This DVD includes 5 cartoons including: Timmy Needs a Bath, Sticky Timmy, Tidy Timmy, Timmy Goes Camping and Timmy the Artist!
On the Back
From the Oscar-Winning Creator or Wallace & Gromit
Enjoy some good clean fun with Timmy and his friends! Adventures with mud, glue and paint leave Timmy in some sticky situations. This clever little lamb uses his creativity to make tub-time fun, and turn a paint fight into a masterfleece! Timmy cleans up and discovers the most fun of all is being with friends! Soak up the good times with Timmy…just don't forget to wash behind your ears!