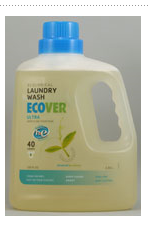 Are you new to VitaCost? If so you will be able to score 40 load Ecover Laundry Wash for just $2.44 +$4.99 Shipping! That is a total of $7.43 (Reg $12.44)
Here's how it works:
Sign up for Vitacost through this link and you will score $10 that can be used on ANY Vitacost purchase! The Ecover sales for just $12.44 on the Vitacost web site so after your free $10 it will be just $2.44! – Shipping is flat rate $4.99 making this just $7.43!